I'm here for the first time and I have just bought a plug-in(s), how can I download it (them)?
Last update January 20, 2022
If You're our customer for the first time, You should read instructions below to become familiar with whole procedure.
After buying a plug-in(s) via our Online Shop, apart from message from Share-it, you're supposed to receive a message from D16 Group with confirmation that transaction has been completed successfully and your serial number. Depending on payment method it can take from 5 minutes (for credit card / paypal payments) up to two weeks (for wire transfers or checks)
If you haven't purchased our product at D16's Online Shop, but instead you've bought it at one of our resellers' shops you should receive your serial number printed on a registration card, sent via email or delivered in one form or another.
---
Now You need to register in D16 User Area, it's a place where all our products You bought are gathered to give You possibility for downloading them anytime You want (for first installation, when update is released, you need to re-install software etc)
Visit https://userarea.d16.pl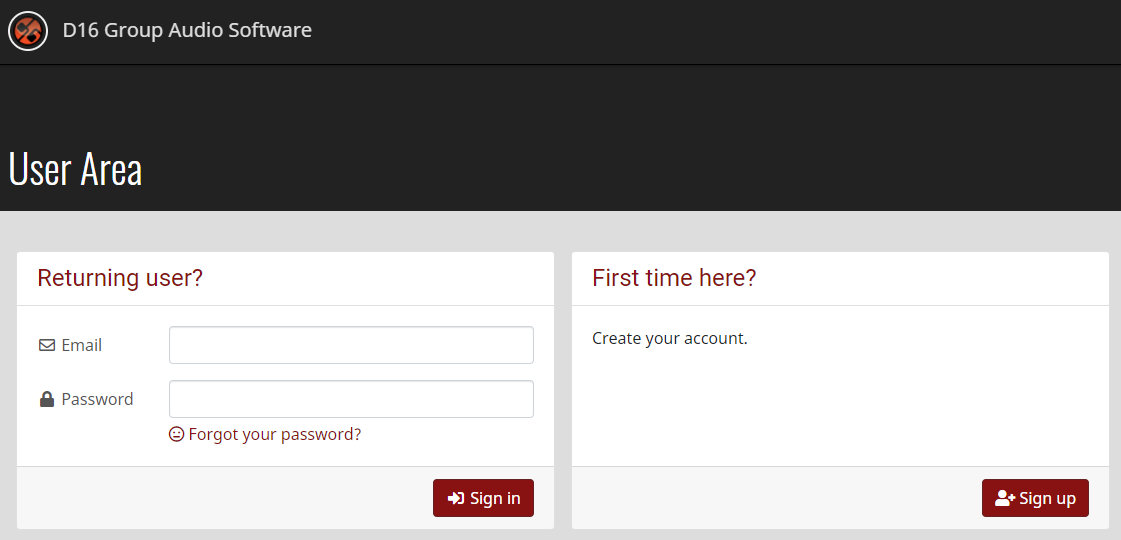 Click the Sign Up button

Fill out the registration form and confirm clicking Create button. Remeber to enter proper email address, because you will receive activation link to complete the registration process.

Click the activation link from the email, then the registration is completed

Please login and use Add license button to add serial number to your license pool.
If You bought bundled products, all products included to that bundle will appear in your User Area account.
If You purchased more than one product (received more than one serial number), the remaining products you need to repeat last step for each serial number (using Add license button).
Important!
If You use wire transfer (payment method) it takes few days (usually about a week) to complete transaction, namely the time between notification from ShareIt and email with serial number from us.